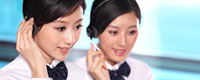 Name: Ken
Mobile: +8615651360106
E-mail: sales@shanshanlogistics.com
Add: No.26, West Yangtze Road,Sihong County, Suqian City, Jiangsu Province,China
Skype: kenlhyken
MSN: bruceleeily@hotmail.com




Good package can improve the efficiency of loading and unloading the container. Racking components are long and heavy, the best way is to pack on the pallet and put them one by one into the container.
While, shelving products, like angle shelving and boltless rivet shelving, are much more possible to pack by cartons or pallets. Angle posts normally are 1.8 or 2.0 meter, which is less than the width of the container. Shelves could be packed by cartons, then by pallets. It can save much time on loading and unloading the container, and clients don't need to repack the products when they receive them.
As we are getting more and more clients with our excellent products these years, we are also updating our service accordingly (layout design, quality control, after-sale service, etc).
Saving cost and time for customers is the main responsibility of Shanshan Logistics. Co-operating with us, you will feel easy, satisfied, and happy.