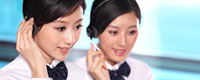 Name: Ken
Mobile: +8615651360106
E-mail: sales@shanshanlogistics.com
Add: No.26, West Yangtze Road,Sihong County, Suqian City, Jiangsu Province,China
Skype: kenlhyken
MSN: bruceleeily@hotmail.com




Product name : Telescopic Conveyor

Item : SS-T001
Details:
In principle mobile telescopic conveyors are exactly the same as their stationary counterparts and can be fitted with a wide range of functions, e.g. articulating conveyor extension or an operator platform.
The mobility itself doesn't infer any restrictions; to prevent tipping a counterweight is fitting inside the rear section of the conveyor. This naturally adds considerable weight, but the conveyor still handles easily by a single operator, either travelling along rails fitted flush into the floor or on gallow rails suspended from the wall or ceiling. Even when fitted on castors, the weight of the conveyor is offset by powered wheels, so manouvering the conveyor into place is simple and quick.
As with all our products, your mobile telescopic conveyor will be engineered to suit your precise requirements and supplied as an integral unit. We can naturally take care of installation and maintenance too.