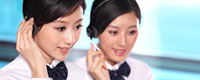 Name: Ken
Mobile: +8615651360106
E-mail: sales@shanshanlogistics.com
Add: No.26, West Yangtze Road,Sihong County, Suqian City, Jiangsu Province,China
Skype: kenlhyken
MSN: bruceleeily@hotmail.com




Product name : Roller Conveyor

Item : SS-R001
Details:
Roller conveyor is widely used in conveying all types of cartons, bags, and pallets. It can convey single heavy goods and impact load as well as variety kinds of goods on the same sorting system with big throughput, high speed, light operation.

Structure


According to drive mode: powered roller conveyor and unpowered roller conveyor, According to placement, it can be divided into horizontal roller conveyor, inclining roller conveyor and turning roller conveyor, and we can also customize different types of the roller conveyors.

• Profile material: carbon steel, stainless steel, Aluminum profile
• Roller material: PVC, carbon steel(galvanized),stainless steel, rubber coat
• Drive mode: Gear motor drive, Electric roller drive
• Drive way: sprocket
、
double chain
、
O-belt
、
high-speed form of flat belt
、
V-ribbed belt
• Equipment characteristics
:
Power roller conveyor should take the tensile strength of single chain into consideration during designing, it should not be too long
• Angle: 30 -180 degrees

Characteristic

It's easy to connect and transit between roller conveyors. It can be used in complex logistics conveying system which consists of multiple roller conveyors and other conveyors to reach various craft needs and accumulated conveying of material. Roller conveyor has simple structure, high reliability, and simply maintenance.