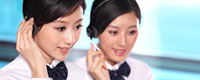 Name: Ken
Mobile: +8615651360106
E-mail: sales@shanshanlogistics.com
Add: No.26, West Yangtze Road,Sihong County, Suqian City, Jiangsu Province,China
Skype: kenlhyken
MSN: bruceleeily@hotmail.com




Product name : Belt Conveyor

Item : SS-B001
Details:
Belt conveyor uses the continuous or indirect movement to transport cargoes which have different weights. It can not only transport all kinds of goods in bulk, but also many different cartons, packages. It is suitable for industries like food, electron, chemistry, printing and so on. Belt conveyors' structural: slot type belt conveyor, flat type belt conveyor, climbing type belt conveyor and many other forms belt conveyors. It can also add some accessories like lifting side bar, hemline, and can satisfy all kinds of craft requirements. The workbench and added lantern support on two sides of the conveyor can be the accessory coils on the electronic instrument accessory or food package.
•Material of frame structure: Carbon steel or stainless steel
•Material of belt: High-ranking PVC, antistatic level, FDA up to the standards of white food level.
•Speed of conveying: According to the need of customer, enclose with speed control equipment.
•Angle: 30°-180°
•Loading capacity: According to the size of the machine body, Max.200kg.
•Machine types which are overweight load or over high-speed operation can be customized.
S
pecification----
Belt conveyor
Efficient conveyor width

(

W

)

mm
Gyration angle: 30°-180° Any other specification except for above mentioned can be customized ,welcome to contact us.